La région de Guinguamp dite aussi Petit-Trégor est dense en mégalithes. Comme tout l'ancien Trégor (évêché de Tréguier), la région était peuplée par l'obscure tribu celte des Osismes. Cependant, Guinguamp ne semble pas remonter plus loin que le Xème siècle. En bordure de la frontière linguistique avec le monde roman de l'évêché de Saint-Brieuc, la langue vernaculaire du Petit-Trégor reste le breton dans sa variété trégorroise.
The area around Guinguamp, named Little Trégor, is dense in megaliths. Like the remainder of former Trégor (diocese of Tréguier), the region was inhabited by the obscure Celtic tribe of the Osismii. Nevertheless, Guinguamp's roots only lie in the Xth century. Bordering the linguistic border with the Romance-speaking world of the diocese of Saint-Brieuc, the vernacular language of Little Trégor remains Breton in its Trégorrois variant.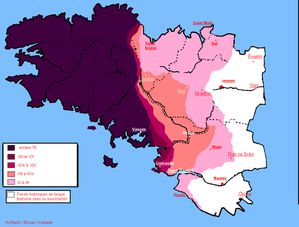 The linguistic border
Echantillon représentatif / Sample

:
Taille réelle / Full Scale
Analyse anthropologique sommaire / Brief anthropological analysis :
- Type 1 :
Clair, leptomorphique, tête longue plutôt triangulaire, nez droit, larges oreilles décollées
~ Atlantide
Light, leptomorphic, long and triangular face, straight nose
, flap and large ears
~ Atlantid


Il s'agit une nouvelle fois du type physique ouest-breton que nous avons identifié ailleurs en Bretagne. Il présente des affinités certaines avec certains types britanniques. Les phénotypes plus bruns sont également présents, assez massivement comme à chaque fois que l'on s'enfonce vers les terres bretonnantes de l'Ouest. On ne peut qu'être stupéfait par le faux-air portugais de ces individus.
One more time, we meet a West-Breton phenotype that we already identified elsewhere in Brittany. It clearly exhibits affinities with the British Isles. Darker phenotypes are there too, quite massively as we go westwards in Breton-speaking lands.
One can only be amazed by those pseudo Portuguese-looking individuals.
- Type 2 :
Clair, brachymorphique, tête large, nez droit et large, pommettes hautes, larges mâchoires presque carrées
~ Alpin
Light, brachymorphic, large face, large and straight nose, high cheekbones, large and nearly squared jaws
~ Alpinoid
C'est une variante du type "alpinoïde" breton : en Trégor, il n'est pas particulièrement abondant au contraire du Vannetais et il y est notablement moins "réduit" (les individus sont plus leptomorphes, les nez sont assez impressionnants et peuvent être convexes, ...). On trouve des individus plus "foncés".
This is a variant of the main Breton "Alpinoid" type : in Trégor, it's not particularly abundant contrary to Vannetais and it's considerably less "reduced" (individuals are more leptomorphic, noses can be considerable and convex, ...). Darker individuals are to be found.


Morphotypes finaux / Final morphotypes :